The Bermuda Bowl of Youth Bridge is held in even-numbered years, with teams qualifying by zone, and competing in four categories.  Each category kicks off with a complete round robin, qualifying eight teams for the knockout stage.
Play begins today (Wednesday, Aug 8) at 7PM Pacific time, 10PM Eastern time.  
In the Under 26 category, which the WBF calls "Juniors", there are 22 teams, just as in the Bermuda Bowl itself.  Participants must have been born in 1993 or later.
Under 21 is termed "Youngsters", and also has 22 teams registered.  Participants must have been born in 1998 or later.
The Rona Cup, called "Girls" for short by the WBF, is for females born in 1993 or later.  There are 15 teams registered this year.
Finally, there is a recently introduced "Kids" category, open to players who will not reach their 16th birthday this year.  Some call this U16 and others U15. Eighteen teams are registered this year. This event is shorter than the others, and my understanding is that countries are invited directly by the WBF, as opposed to following the zonal qualification procedure of the other categories.
While participants in this championship are no doubt the future of high-level international bridge, occasionally we see a few from the present!.  The U26 includes the familiar names Rimstedt and Grossack, and in 2016 the victorious Polish team included Michal Klukowski, at the time already a two-time open world champion.  Though still eligible, the name Klukowski does not appear on this year's registration list.
It is less common to see players who are already winning open national and world championships in other categories' rosters.  Familiar names such as Brogeland, Bertheau, and Bakhshi appear, but it's one or both parents who have made them famous in bridge so far.  One notable exception this year is Giovanni Donati, playing for the Italian U21 team.  Italy won this category in 2016 without Donati, who was then playing in U26. Look out, "Youngsters"!
It's likely that I don't know all the current international stars who are participating.   Please add their names in comments.
Here are some links you might find helpful: 
Main Event Page: http://championships.worldbridge.org/suzhouwytc17
Participants: http://db.worldbridge.org/repository/tourn/suzhou.18/microsite/participants.asp
Results: http://db.worldbridge.org/repository/tourn/suzhou.18/microsite/Results.htm
Daily Bulletins: http://db.worldbridge.org/repository/tourn/suzhou.18/microsite/Bulletins.htm
Schedule of Play; times GMT+8 (China): http://championships.worldbridge.org/wp-content/uploads/2018/06/WujiangScheduleofPlay.pdf
Vugraph schedule plus photos of each team: http://livebridge.net/bbo/wbf/2018wybtc.php?dsp=sch  The vugraph schedule for the first two days is already posted.
Bridge Base Online for vugraph:  http://www.bridgebase.com/
Funbridge for vugraph: https://www.funbridge.com/en/download/thankyou
I've been told that four matches will be on vugraph from each round-robin session; three on BBO and one on Funbridge.  Typically the vugraph matches are specified in that day's Daily Bulletin, published several hours before play begins.  I've now learned that they are specified even earlier via the livebridge.net link above.  Fans can plan their days/nights accordingly!
NOTE:  Unlike the ACBL, the WBF uses electronic scoring for all stages of team events. Therefore it is possible to follow along live, even when the team you are rooting for is not on BBO.  I for one will be staying up all night every night here in California, obsessively updating the Running Scores.  Look for that link on the Results Page when play is in progress.  Though not as good as having your team on vugraph, it's possible to see who is sitting where, contracts, leads, and results.
For those interested, on Page 2 I'll talk about the US teams, their coaches, and more on my personal perspective on the event.
INTRODUCING THE US TEAMS:
The USBF has sent a total of five teams; two for U26, and one team each for U21, U16, and Rona Cup.  Typically each team consists of six players, which in some cases required augmentation.  All augmented players participated in the Junior Trials.
Each team has an NPC, who is usually, though not always, their team coach in the USBF Online Training program.  In addition, each pair had an expert work with them as partnership coach to prepare for this event.  
Teams qualified back in December 2017 at the Michael Seamon Junior Championship in Atlanta.  More info about that event, and photos, can be found at usbf.org.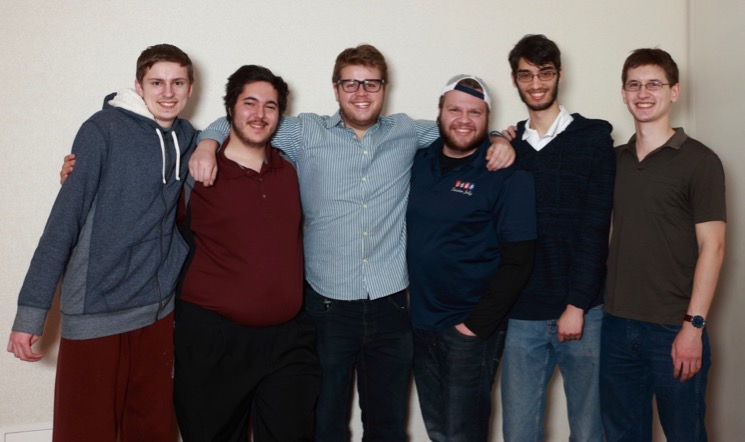 From left, Ben Kristensen, Adam Kaplan, Zach Grossack, Christian Jolly, Kevin Rosenberg, and Oren Kriegel.  NPC Michael Rosenberg is not pictured.
U26 USA 1
Group mentor Geoff Hampson.  NPC Michael Rosenberg
Adam Kaplan-Christian Jolly; Partnership coach Ish Delmonte
Zach Grossack-Oren Kriegel: Partnership coach Chris Willenken
Ben Kristensen-Kevin Rosenberg: Partnership coach Geoff Hampson
Notes: All six team members competed in U26 (some on USA 2) in the 2016 World Youth Championship
U26 USA 2
Group mentor and NPC: David Caprera
Burke Snowden-Greg Herman: Partnership Coach Brian Platnick
Arjun Dhir-William Zhu: Partnership Coach Ralph Katz
Sam Amer-Yichen Yin: Partnership Coach Ai-Tai Lo
Notes: The team qualified five-handed and Yichen Yin was added.
Most team members have competed for the US in World Youth before.  It is the first time for Sam Amer and Yichen Yin, though Yichen has previously represented China..
U21
Group mentor and NPC: Sylvia Shi
Sarah Youngquist-Richard Jeng: Partnership coach Daniel Korbel
Brent Xiao-Kevin Huang: Partnership coach Sylvia Shi
Cornelius Duffie-Stella Wan: Partnership coach Debbie Rosenberg
Notes: The team qualified five-handed and Stella Wan was added.  Richard Jeng has previously competed in World Youth; the rest are first-timers.
U16
Group mentor and NPC: Jim Munday
Michael Hu-Arthur Zhou: Partnership Coach Jim Munday
Rory Xiao-Jonathan Yue: Partnership Coach David Berkowitz
Harrison Luba-Michael Xu: Partnership Coach Adam Grossack
Notes: The team qualified five-handed and Michael Xu was added.  Michael Hu, Arthur Zhou, and Rory Xiao were all on the US U16 team in 2016.  The rest are first-timers.
Rona Cup
Group mentor and NPC: Kent Mignocchi
Lucy Zhang-Sophia Chang: Partnership Coach Migry Zur Campanile
Emma Kolesnik-Lingyi Ma: Partnership Coach Allan Graves
Amber Lin-(Isha Thapa): Partnership Coach Mike Passell
Notes:  The team qualified four-handed (Lucy, Sophia, Amber, and Isha).  Emma and Lingyi were added.  Unfortunately, Isha Thapa is unable to participate, and it was too late to replace her, so the team will compete five-handed in China.
USBF Training Program
While I mention only the current coaches of participating teams above, many other experts help, or have helped with the program over the years.   All of this mentoring and coaching is done on a volunteer basis.  Over 80 juniors currently participate.
In particular, Mike Kopera often fills in as coordinator when Michael Rosenberg is unavailable, and Barry Goren was co-organizer and an active mentor for years.  Names of the many experts who have been involved, plus more info about the online training program, can be found here: http://usbf.org/junior-training-programs/junior-online-training-program
WHAT THIS EVENT MEANS TO ME
While for personal reasons I am home in California and not traveling to China, it would be difficult for me to care more about any other bridge event. 
In addition to the obvious interest generated by my son's participation, I am floored by the countless hours my husband devotes to training these players, week after week, month after month, and year after year.    Other experts have helped organize the program as well as mentor, some a great deal, yet Michael has stuck it out now steadily for over five years now.  I really don't know how he does it.
Furthermore, I am thrilled that most of the members of the U16 and U21 teams have come through our local Silicon Valley Youth Bridge program.  They have had lots of family support and too many mentors to name.  Yet I will indulge in a moment as a proud mom and mention that my son, Kevin Rosenberg, has been a huge part of this.   While I'm sure he cares most of all about his own team's success, he is hugely invested in the U21 and U16 teams, players he has both mentored and become close friends with.
And then there are the players themselves.  So many great kids!  They not only work hard to improve and play well - they also want to play bridge the right way.  They care about bridge ethics, and for the most part are great partners and teammates.  They have expressed much appreciation for the support they receive, and many are teaching bridge to other young people themselves.  I've also come to know and like some of the Canadian juniors and others from around the world. 
These young people give me hope for a bridge world I can enjoy for the rest of my life, and which my son can be a part of, for all of his.