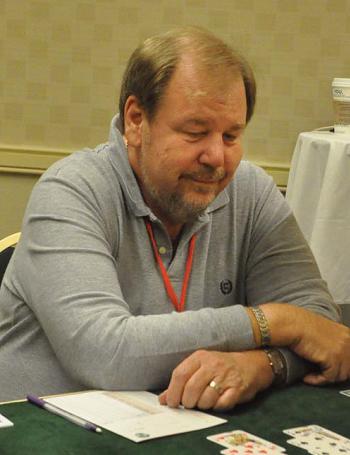 Everything's coming up Meckstroth. Not only was Jeff just elected to the ACBL Hall of Fame on the first ballot, but he picked up his 7th Vanderbilt trophy in Kansas City, along with 12 Spingolds and 9 Reisingers (many won in a 25-year run as a mainstay of the fabled NICKELL team). Seen by many as the greatest bridge player of all time, Jeff has merely:
Won nine world championships, including five Bermuda Bowls and the Bridge Triple Crown
Won sixty-one national championships -- more than one per year he's been alive!
Attained the most ACBL masterpoints in history (83,000 and counting)
Won ACBL Player of the Year (most platinum points in a year) three times
Won the Barry Crane 500 a record eleven times
But he has not yet been in the Bridge Winners Well. Today, Jeff enters the Well to answer any questions you may have.
For such a great player, Jeff was a relatively late bloomer -- he did not learn the game until he was a freshman in high school at age 14, and only because his brother Dave, a senior, was learning too. After kibitzing his dad a couple times, he and Dave went out to the club to try their luck. They won the club tournament for 1.41 masterpoints on the third try, and Jeff was hooked for life.
Jeff was a scratch golfer in high school, but thoughts of a professional career went down the drain after he unfortunately broke his elbow repairing the roof on his parents' house. He attended Ohio University and transferred to Ohio State later, but never ended up getting a degree, as he realized that playing bridge was far more attractive to him than holding a 9-5 type job. In 1974 he met Eric Rodwell for the first time and after one day, said to himself, "This is my future bridge partner".In the summer of 1975, he introduced his parents to Eric, sporting a hippie haircut, and announced that he was leaving college to try a career at bridge. Dad promptly disowned him. Jeff went on the road, and won several regional championships before getting his big break by being invited to join the Precision Team. Jeff and Eric eventually modified the system into the famous Meckwell Precision. After winning the Open Pairs in Norfolk and the 1979 Reisinger, they haven't looked back since. (He and his father have since reconciled.)
Jeff moved to Florida in 1987 and has lived in the Tampa area since, moving to his present location in Clearwater Beach several years ago. His immediate family consists of wife Sally, and sons Rob and Matt, all of whom have won bridge national championships of their own. When not playing bridge, Jeff used to enjoy golf and water skiing until his back flared up. Nowadays he spends most of his leisure time boating, fishing, watching great movies (Casablanca being his favorite), reading speculative fiction (he will read anything written by Terry Goodkind or Orson Scott Card), and spoiling his 3-year-old grandson (Hunter).