The Norwegian Bridge Federation hosted the 3rd edition of the Marit Sveaas International Bridge Tournament, June 29th through July 1st. 179 pairs from 21 countries (Belgium, Brazil, Bulgaria, Czech Republic, Denmark, England, France, Greece, Iceland, Israel, Italy, Latvia, Netherlands, Norway, Poland, Romania, Scotland, Sweden, Ukraine, and USA) participated in the magnificent Oslo Opera House.
The MSIBT is a tournament in memory of the late Marit Sveaas, a leading woman player from Oslo some years back. The main sponsor of the tournament is Marit's son Christen Sveaas, a well-known Norwegian businessman and investor.
The tournament was organized as a matchpointed Swiss pairs tournament over 120 boards; 40 3-board rounds, where the two first rounds were randomly selected, the pairings for round three were based on the rankings after the first round, etc.
The directing staff was a Scandinavian mix; Jacob Duschek (CTD) and Niels Aagaard from Denmark, Björn Andersson and Ryszard Sliwinski of Sweden and Sigmund Ivar Bakke and yours truly from Norway. Are Utvik (Nor) did the scoring.
With a first prize of NOK 250,000 (approximately $30,700), 13 prizes overall, and prizes in special categories (mixed, seniors, women, juniors, handicap (Norwegian-only) and last session), a lot was at stake for many participants throughout the tournament. In spite of this, all participants behaved impeccably at all times, creating a friendly and relaxed atmosphere. Directing was a delight. A couple of comments made by participants:
Jacco Hop: "The tournament is very well-organized (time schedule was kept, enough boards, scores were handed out each round, directors are skilled) and lots of fun to play in. Swiss Pairs is not a format I ever play but I really enjoy it. The location is great and the people are friendly."
Jan Jansma: "It was a pleasure again to play in the best organized tournament in the world! Till next year!"
The first two editions of the tournament were both won by Fredrik and Tor Helness (son and father). With Tor participating in the Yeh Bros Cup starting the same weekend, there wouldn't be a triple championship. Despite a couple of last-minute withdrawals, the field was studded with strong pairs. Five of our recent European National Teams champions participated, as did three of our players winning last years European Open Teams Championships, together with a string of strong national and international pairs.
Friday night (after 14 rounds), Nils Kvangraven - Terje Lie (Norway) were leading with a score of 62.88 %, ahead of Milan Macura - Tim Verbeek (Check Republic/Netherlands, 59.73 %) and Boye Brogeland - Espen Lindqvist (Norway, 59.62 %), with many pairs following close behind.
Saturday night (after 32 rounds), Brogeland - Lindqvist were first (58.17 %), followed by Kvangraven - Lie (57.45 %) and Christophe Grosset - Baptiste Combescure (France, 56.86 %), closely followed by the rest of the field.
On Sunday, Brogeland - Lindqvist and Kvangraven - Lie moved ahead, creating a gap between them and the rest of the competitors. Going into the last round, Brogeland - Lindqvist was leading by 1.45 MP (0.73 in the US). On the first board of the final round, Brogeland-Lindqvist increased their lead slightly, making 4♠x while Kvangraven-Lie set 5♦ twice. On the penultimate board, both pairs were hammered in 2♥. Brogeland lost the normal eight tricks for -800, whereas Kvangraven was allowed to escape for -500. That meant Kvangraven-Lie were in front before the last board. On the last board both defended 4♥. Both declarers made the normal ten tricks; eleven was possible by dropping the singleton trump king offside, but missing four trumps, that would be odds against. When the smoke cleared, Kvangraven-Lie won the event, taking home NOK 250,000.
Some hands are presented on the following pages.
On board 74, Boye Brogeland - Espen Linqvist played Peter Fredin - Johan Sylvan.
Boye Brogeland listened carefully to the auction and found the best lead, the ♠Q, hitting declarer's weak spot. With another lead, Sylvan takes the heart finesse, concedes a heart, and has twelve tricks.
Follow the play here:
Sylvan ducked the lead, won the next spade, and proceeded to take his minor-suit winners, ending in dummy. On the last club, Lindqvist was squeezed. Keeping the spade king to stop dummy from winning two spade tricks, he had to release a heart. The heart finesse then saw Sylvan home. Making 6NT was worth 162 out of 176 MP, or 92 % on the board.
On board 93, Peter Fredin- Johan Sylvan played Kristian Barstad Ellingsen- Peter Marstrander.
Marstrander led the ♥K, ducked. Fredin won the next heart and cashed two diamonds, carefully unblocking in dummy. A club finesse endplayed Ellingsen; any continuation would give Fredin his ninth trick. At the table, Ellingsen returned a low spade.
3NT making netted 84.5 % on the board.
On board 111,BoyeBrogeland - Espen LinkvistplayedGunnKariHelness - IdaWennevold.
Brogelandled the ♠K, and had to find the best continuation.
As you can see, continuing spades or switching to a diamond allowsdeclarer to cash her two diamond winners and cross-ruffdiamondsand spades, winning two diamonds and seven trumps, just making. Cashing two heart tricks, sets up a winner in dummy, giving declarer at least nine tricks.
Brogelandfound the low trump switch, giving declarer no winning option.
One down was worth 82.6 % on the board, -110 would have been worth 46 %.
On board 115, the eventual winners, Nils Kvangraven- Terje Lie, played Helge Hantveit- Jonny Rasmussen.
North led the ♣K. When that held the trick, he continued with a low club to the ten, ace and ruff. You can follow the play by clicking NEXT above. In the end position, North was squeezed in hearts and clubs; throwing the ♣Q would set up dummy. When North discarded the ♥J, dummy's ♣J had served its purpose, and was now played, Lie thus won two heart tricks in the end. If South had been up to the task, he could have overtaken the ♣K at trick one and returned a heart through declarers queen, setting up a third defensive trick.
Making five was worth 149 matchpoints (84.7 %). Making four would have scored 40 fewer matchpoints, just 1.9 matchpoints more than the winning margin.
Prize winners:
Overall NOK USD
1st Terje Lie - Nils Kvangraven, Norway 250,000 $30,700
2nd Boye Brogeland - Espen Lindqvist, Norway 125,000 $15,400
3rd Christophe Grosset - Baptiste Combescure, France 75,000 $9,200
4th Peter Fredin - Johan Sylvan, Sweden 30,000 $3,700
5th Jan Jansma - Chris Willenken, Netherlands/USA 25,000 $3,100
6th Jim Høyland -Sven-Olai Høyland, Norway 20,000 $2,450
7th Rolf Karlsen - Kent Karlsson, Norway/Sweden 17,500 $2,150
8th Hrannar Erlingsson - Sverrir Kristinsson, Iceland 15,000 $1,850
9th Wojtek Olanski - Cezary Krzeminski, Poland 14,000 $1,700
10th Allan Livgård - Terje Aa, Norway 13,000 $1,600
11th Rune Brendeford Anderssen - Lars Eide, Norway 12,000 $1,500
12th Rune Hauge - Jan Petter Svendsen, Norway 11,000 $1,350
13th Erik Eliassen - Ståle Frøyland, Norway 10,000 $1,250
Sigurd Evjen - Vidar Smith, Norway 10,000 $1,250
Mixed
1st Jaccop Hop - Meike Wortel, Netherlands 20,000 $2,450
2nd Geta Mihau - Radu Mihai, Romania 15,000 $1,850
3rd Leif Arild Lothe - Jonill Storøy, Norway 10,000 $1,250
Women
1st Gunn Kari Helness - Ida Wennevold, Norway 10,000 $1,250
2nd Paula Leslie - Sølvi Remen, Scotland/Norway 5,000 $625
Seniors
1st Göran Selldén - Björn Wenneberg, Sweden 15,000 $1,850
2nd Helge Hantveit - Jonny Rasmussen, Norway 10,000 $1,250
3rd Kjell Andreas Kaspersen - Per Jørgen Ohren, Norway 5,000 $525
Juniors
1st Sanna Clementsson - Christian Lahrmann, Denmark/Sweden 7,500 $900
Handicap (applying to Norwegians only)
1st Leif Theodorsen - Tonny Tran 20,000 $2,450
2nd Kaja Brekke - Maren Hansen Kjensli 15,000 $1,850
3rd Jostein Flægstad - Kåre Gjertsen 10,000 $1,250
Last session
1st Allan Livgård - Terje Aa, Norway 15.000 $1,850
2nd André Øberg - Unni Øberg, Norway 10.000 $1,250
3rd Geta Mihai - Radu Mihai, Romania 5,000 $625
Complete rankings at:http://bridge.no/result/view/9901/2018-06-29
More information at the MSIBT website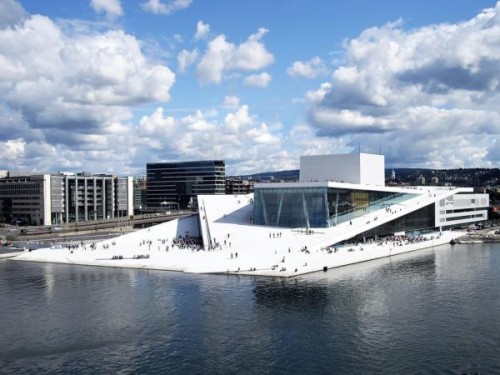 The Oslo Opera House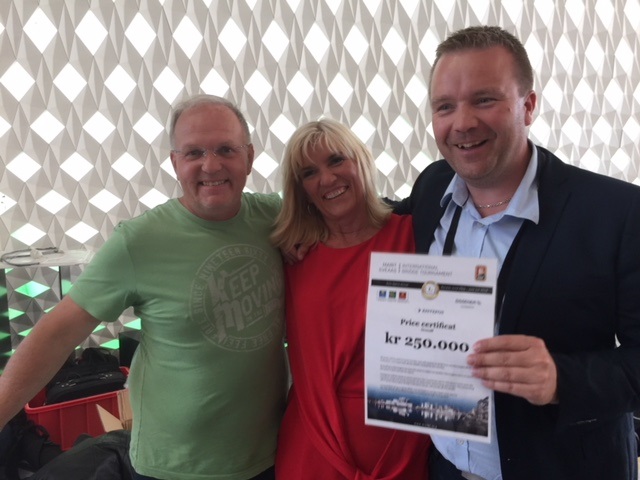 The winners: Terje Lie (left) and Nils Kvangraven, withthe NBF president, Kari-Anne Opsal (center)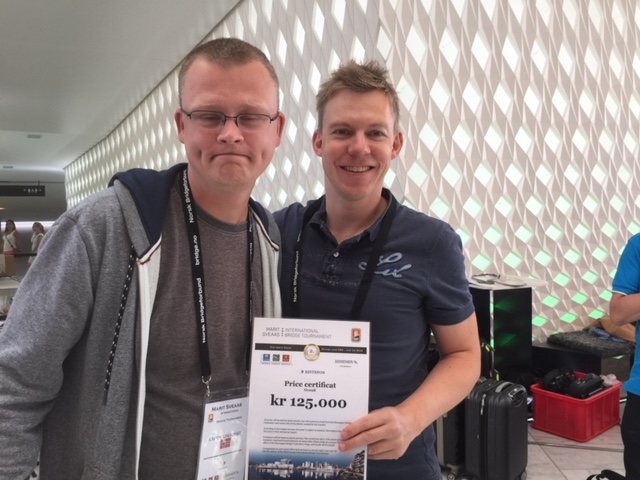 The runner-ups: Espen Lindqvist (left) and Boye Brogeland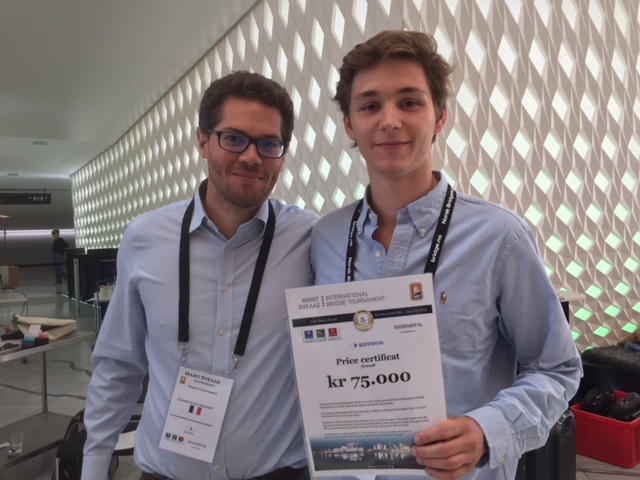 3rd place: Christophe Grosset (left) andBaptiste Combescure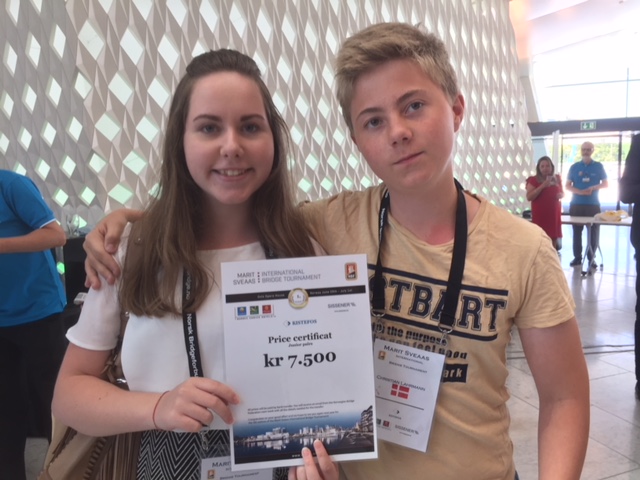 Best junior pair: Sanna Clementsson (17, left) and Christian Lahrmann (14)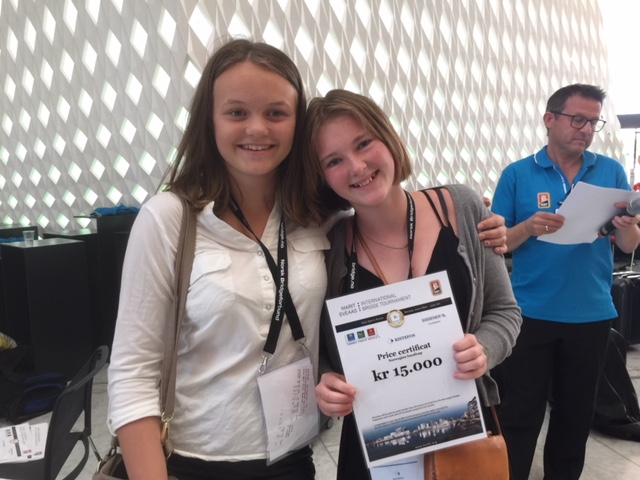 The youngest pair and 2nd in the Norwegian "hcp" rating system (similar to ELO) :Kaja Brekke(14) and Maren Hansen Kjensli (16)